Pediatric & Prenatal Care
Good, healthy habits should start in childhood. That's why our team is dedicated to providing excellent prenatal and pediatric care. Dr. Lauren Block is a certified member of the International Chiropractic Pediatrics Association and has a passion for caring for expectant mothers and children. She is proficient in adjusting techniques, evaluation, and management of different developmental stages from pregnancy, birth, infancy and beyond. She is also certified in the Webster Technique which is specifically designed to care for the pregnant mother.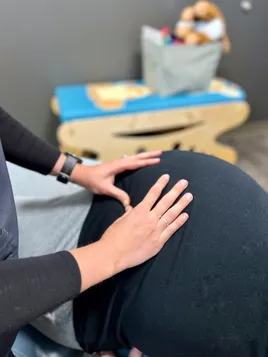 Prenatal Care
Even before your children are born, their health and well-being are starting to form. The way a mother takes care of herself during pregnancy will have a life-long effect on the health of her new child. We can help you make your pregnancy a much more pain-free and healthy experience.
Prenatal chiropractic care offers all of the health benefits of chiropractic care in a safe and effective way for pregnant women. When moms can find safe ways to deal with their aches and pains, they are less likely to use dangerous pain medications during pregnancy.
Keeping the spine properly aligned during pregnancy will help to ensure that the proper blood, oxygen, and nutrients are getting to your developing baby. This can also alleviate tension and pressure in your back.
In addition to these benefits, chiropractic care during pregnancy can also help you have a shorter, less painful childbirth, reducing the need for harmful medications during birth.
Pediatric Care
Children can benefit from chiropractic care, just like adults. Making sure children have healthy habits at a young age can help them avoid future health problems.
A partial dislocation of the spine, also known as subluxation, can often occur during childbirth and events of childhood can cause further misalignment. This can affect your child's growth as well as their performance in sports. Children who are active in sports can benefit greatly from visiting a chiropractor to help address soreness or joint issues.
Children may also have poor posture, which can come from carrying a heavy backpack, slouching, and many other things. By making sure your child's spine is aligned, we can alleviate pain and ensure that spine problems do not develop or worsen.